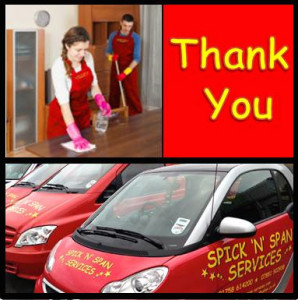 The Spick 'N' Span team we would just like to say a big 'Thank You' to all our customers.
We pride ourselves with the work we do and aim to please. Whether it is cleaning carpets or clearing out guttering we love to do the jobs you hate. It's wonderful hearing from our customers getting a telephone call or a letter to say how happy you are. Because your feedback is important to us, s owe are able to constantly  provide the best service and keep our customers happy and everything shiny and gleaming.
Whats More is our team at Spick 'N' Span have undergone rigorous training and examinations to become qualified members of the NCCA (National Carpet Cleaning Association) and FWC (Federation of Window Cleaners). We adhere to strict guidelines set by the NCCA. We are also proud to have been awarded accreditation under the SafeContractor scheme, which recognizes our excellent health and safety record.
If you  have used our services and would like to send us an email we would be delighted to hear from you email us at enquiries@spicknspanservices.co.uk
we post our reviews online each week.
Why not have a look at our case studies page https://www.spicknspanservices.co.uk/case-studies
Some of our reviews…
"We are really pleased with the result, and the excellent service provided.
We highly recommend Spick 'n' Span Services and will be happy to use them again in the future."
Fiona from Trespass store in Pwllheli
We are very satisfied with the services that Spick 'N' Span Services provide us with
as they are very reliable and their work is consistently of a high standard.  We look forward to continuing our working relationship.
Mr R Jones – South Caernarfon Creameries
Two of Spick 'N' Span Services staff turned up to deep clean my caravan at the beginning of the season.
They were wearing uniform, very polite, very thorough and did an excellent job.  We will be using them again next year.  Thank you.
Mr & Mrs P Bates.
We are also on Facebook, Twitter and Instagram