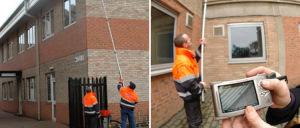 Gutter cleaning is often over looked as it is 'out of sight out of mind' which can be a costly mistake!
Having your gutters inspected and cleared is a vital part of property maintenance work, and in the long run it can save you a lot of money in repair bills.
Blocked  gutters can cause the following problems:
Rotten fascia boards
Remedial re pointing works which can even lead to scaffolding costs
Plastering works to the interior of your property at gutter level
Stained green or brown brickwork leading to brick cleaning costs
Overflowing gutters can lead to gutters even falling down or coming away from their brackets
Sale!
Why not take advantage of  our current sale
We will arrange a 10% discount for you, and also a 10% discount for any of your neighbours' who decide to book a gutter clearance on the same day.
Please contact our head office in Pwllheli for more information.
Although gutter cleaning can be a messy task, we'll ensure that no foul odours or sloppy sludge are left lingering on your doorstep, as all the mess will be cleared up.
Spick 'N' Span Services work all over North West Wales, from Llandudno to Holyhead, and throughout Gwynedd, from  Bangor, down as far as Dolgellau.
If you would Spick 'N' Span Services to check and clear your gutters and down pipes,
please call our Pwllheli office on 01758 614200