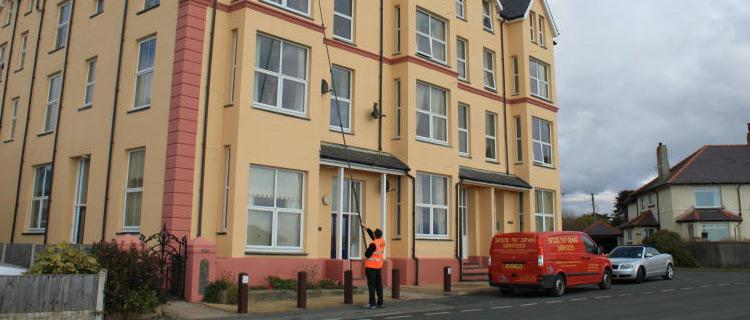 Clean windows make a whole home feel cleaner and allow in more light. We know the importance of having a comfortable home, which is why we offer a water fed pole window cleaning package to our domestic customers, which can be tailored to suit your needs.
Our window cleaning method is a lot quicker than traditional methods. With water fed pole leaning we can access windows, up to 60ft, easily with no need for ladders.
Our water fed pole system cleans windows to the highest standard. The soft bristled brush gently removes dirt from the windows, whilst the pure water rinses it away. Once the windows are dry you will notice that no streaks or spots remain thanks to the purified water process.
The pure water window cleaning system ensures a consistently good clean, as we are not governed by the quality of water in your area.
Water fed pole window cleaning (using pure water) has many advantages over traditional window cleaning:
Cleans windows, conservatories, fascia boards, gutters and more
Operators work from ground level, which ensures their safety
No ladders required
Environmentally friendly as no detergents or chemicals are used
Windows stay cleaner for longer and there is no detergent residue
Cleans the frames and sills at the same time as windows- at no extra cost
Pure water is like a magnet to dirt and consumes algae on contact
Maintains your privacy, all cleaning is performed at ground level
No damage to flower beds, flat roofs or window sills from ladders
This system has no become the most recognised form of window cleaning, due to the benefits over traditional cleaning. It is now used by the UK's leading commercial window cleaning companies.
How does it work?
Water is sent through a filtration system which purifies it. The pure water is then passed through a hose up a telescopic pole and onto a brush. The frames are cleaned and then the glass. Finally, it is all rinsed down with a continuous flow of pure water, this system allows the window to dry to a spotless and streak free finish.
Our window cleaning service can be booked on a one off basis or on a contract basis to suit your terms whether this be weekly, fortnightly, monthly, quarterly or annually. We would be happy to meet with you to discuss your personal requirements.