Will the chores around the home ever end….? Ironing, hoovering, washing, tidying up, gardening. Well the short answer is no and also not the one you wanted to hear. But there are ways to make those little nitty gritty jobs shorter rather than ending up in a full blown deep clean (leave that to us we love to clean) you can then get back to your list of other more important tasks or chill out.
So I have been scouring (nice pun) high and low for cleaning tips. Here is a few I found, we sure hope they save you time and money.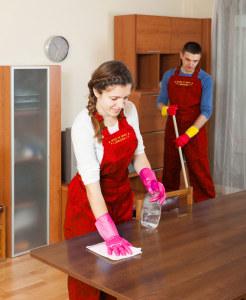 1. Your chopping boards, use salt and lemon to bring them up looking and smelling lovely. Firstly put some lemon on the board then add the salt, then get the half cut lemon and rub it in circles around the board rinse off and done!
2. Use sea salt to clean iron dishes. place salt into pan and then use some an old cloth to work into the pan. rinse off and hey presto clean iron pans.
3. Protect your skirting boards from hair and dust with dryer sheets. – Yes its true it works a treat especially if you have pets!
4. Use a toothbrush to clean your keyboard gets into all those you can reach places!
5. Use a squeegee to remove hairs from the carpet. Yes you will not believe this one! it's so impressive.
6. Play dough can be used to remove spilled glitter.
7. Clean your hair brush with shampoo.
8. Clothes rollers are great for removing dust from your lamps.
9. Canned air can be used to remove dust from inaccessible places.
10. Use a dustpan to pick up small toys all over your home.
And remember we are always on hand to do it for you, and don't worry we won't tell anyone unless you do.
Have a super week. Spick 'N' Span Services